In the spring of 2021, we designed and built our own Audio Sampler App because we saw the demand from the music community for a simple tool to be able to mix sounds and music with Makey Makey.
This is how Makey Makey blog post about the Sampler starts. It's pretty cool to read it and think this is probably the first project I ever worked as "designer".
I would never have done it without a great team helping, guiding and making hard decisions. I believe this is how good work is done: In collaboration, constant conversation and improvement. I owe so much to Colleen who led the team and project in such a insightful and joyful way!
It was also the first time I recorded a video tutorial that was published outside of my small social network. I was pretty scared. This video was only supposed to be a video from me to Colleen with my thoughts on how to explain the sampler. Making a more formal presentation in English is something that scares me a bit but Colleen was very encouraging, as always!
And as if it was not enough of an honor and privilege, at the end of the blog post there is a "meet the software dev" section talking about me. Can you believe it?
It's hard to say how happy and grateful I am for all of this. In the past when I was sad and tired, resisting the obstacles of following my own values about technology and education, I would always come to Makey Makey Kickstarter video and Jay Silver's video about invention literacy to restore my faith in what's possible.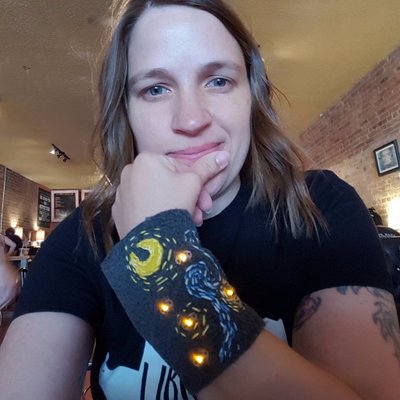 It's pretty crazy to think I got to meet and learn from people I admire so much. I am looking forward to do more with JoyLabz and grow as a person, learning from the fabulous human beings that I got to meet there!